CASE STUDY
Revolutionary Cost Reduction: Inrico DR10 Gateway Slashes Oil and Gas Customer's Monthly Expenses By 98% from $15,000 to $250!


SUMMARY
Customer's Main Goal: To significantly REDUCE monthly costs of two way radio communication services, while protecting previous investments.
The Challenge: Microwave Links
The customer was incurring a significant expense of $1,500 per month for each site, resulting in a total annual cost of $180,000 for 10 sites, to maintain the microwave links that enabled their two-way radio communication services.

| | | |
| --- | --- | --- |
| PROBLEM | Monthly Cost | Initial Investment |
| Microwave Links Per Site | $1,500/site | ~$50,000/site |
| Microwave Links for 10 Sites | $15,000 | ~$500,000 |
| Microwave Links for 10 Sites Per Year | $180,000 | n/a |


The Solution: Inrico Canada DR10 Gateway
Expert Mobile Communications recommended and supplied Inrico DR10 gateway devices to replace the expensive microwave links. We achieved a remarkable cost reduction for our Oil and Gas customer, slashing their monthly expenses from a staggering $15,000 down to an astonishing $250 per month.
| | | |
| --- | --- | --- |
| SOLUTION | Monthly Cost | Initial Investment |
| Inrico DR10 Per Site | $25/site | $1,900/site |
| Inrico DR10 for 10 Sites | $250 | $19,000 |
| Inrico DR10 for 10 Sites Per Year | $3,000 | n/a |
98% reduction in monthly expenses from $15,000 to $250 per month.
Turnkey Solution – x10 Inrico DR10
Rental Two Way Radios – to support upgrade process and avoid disruptions


Our customer operates a natural gas transportation and pipeline business across multiple sites, where instant and reliable communication is crucial for operations and mission-critical tasks. Our priority was to deliver a solution that safeguards our customer's investment in their two-way radio infrastructure.

THE CHALLENGE

The customer's communications network was utilizing microwave links between rented cell towers that connected the repeaters on each site in order to enable communications across all sites of operations. The structure of this network system was old, and expensive. Advancements in cellular technology has since provided opportunities for new devices that render obsolete the need for utilizing microwave links for two way radio private networks.
Microwave Link Cost = $1,500 a month per site
Initial Installation Cost = ~$500,000
Providing service optimizations at these multiple locations requires the supply of advanced turnkey systems and dependable, dedicated team of wireless professionals with a strong focus on customer service; as well as unhindered communications throughout the upgrade process for risk mitigation.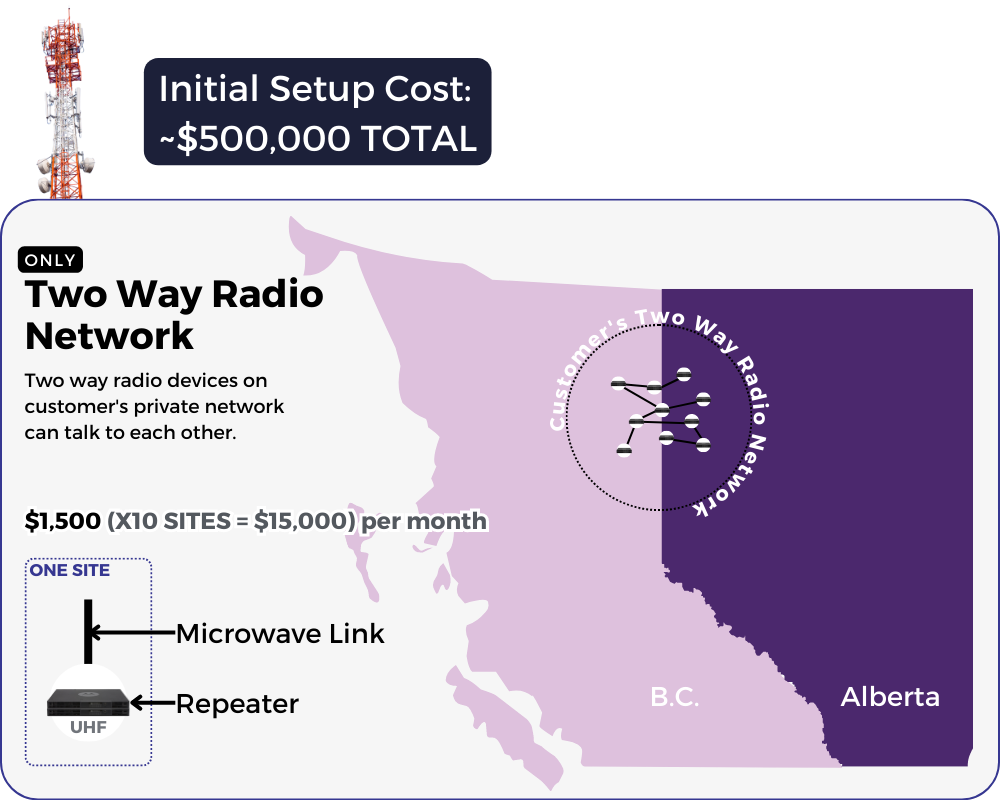 THE NEED
Our customer's facility consists of ten repeaters, with one repeater on each site. All ten repeaters were connected utilizing microwave links that facilitated communications for the two way radios programmed with the customer's unique frequency. Due to the cost of maintaining microwave links at ($180,000 per year for all sites), and the opportunity presented by growing cellular technology, the customer put out a request for proposals for new solutions that facilitates the expansion of a hybrid communication system but also protects previous investment in their two way radio systems.
OUR SOLUTION
Due to partnership with Inrico Canada, Expert Mobile Communications was well positioned to provide the necessary scope of work and was rewarded the opportunity. This was not entirely based on price but more toward our quality technical approach, in-depth knowledge of government regulations in oil and gas communications, ability to mitigate risks of unhindered communications with rental radios, and a logistics plan that scored very high in the customer's evaluation.
With our wide range of telecommunications products, knowledge of regulations, and internal capacity to perform all customized modifications domestically and in-house, we were able to supply ten Inrico Canada DR10 Gateways designed to enable seamless connectivity between traditional Analog/DMR radios, as well as Push-to-talk over Cellular (PoC), ensuring the client received speedy supply of the turnkey solution needed to make the upgrades while following ISED guidelines.
Although PoC capability was not originally planned, the Inrico DR10 devices proved to be the perfect solution for the customer's challenges. These devices not only replaced costly microwave links but also provide the added benefit of PoC services. Now, the customer can leverage this additional value whenever necessary.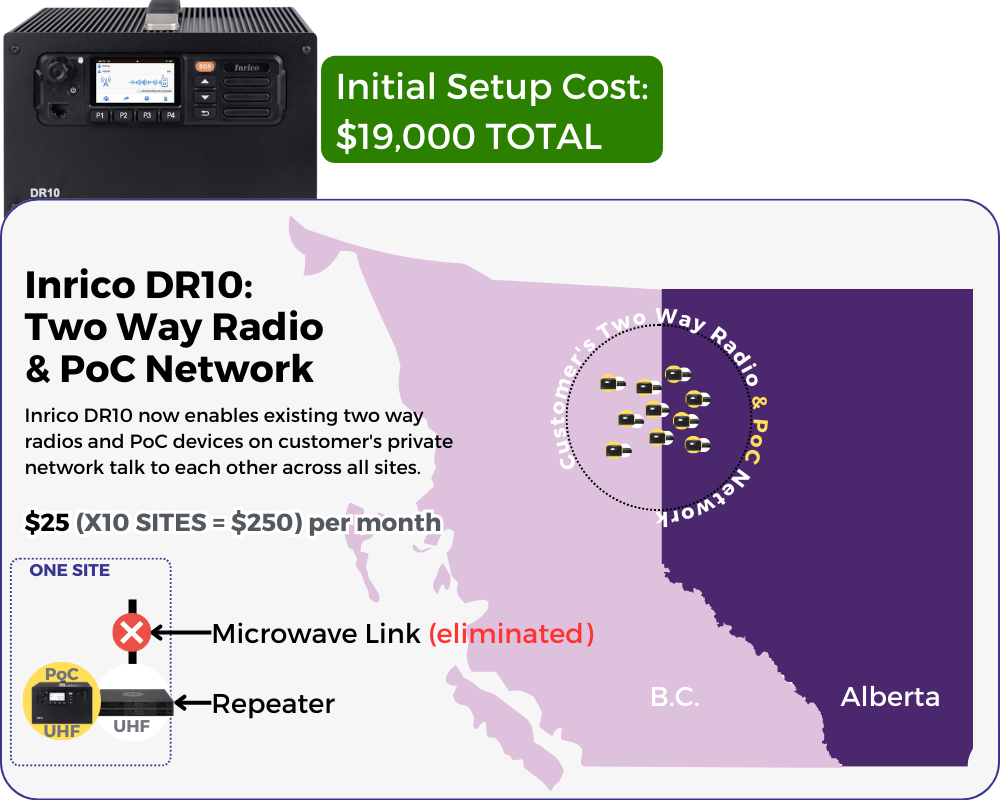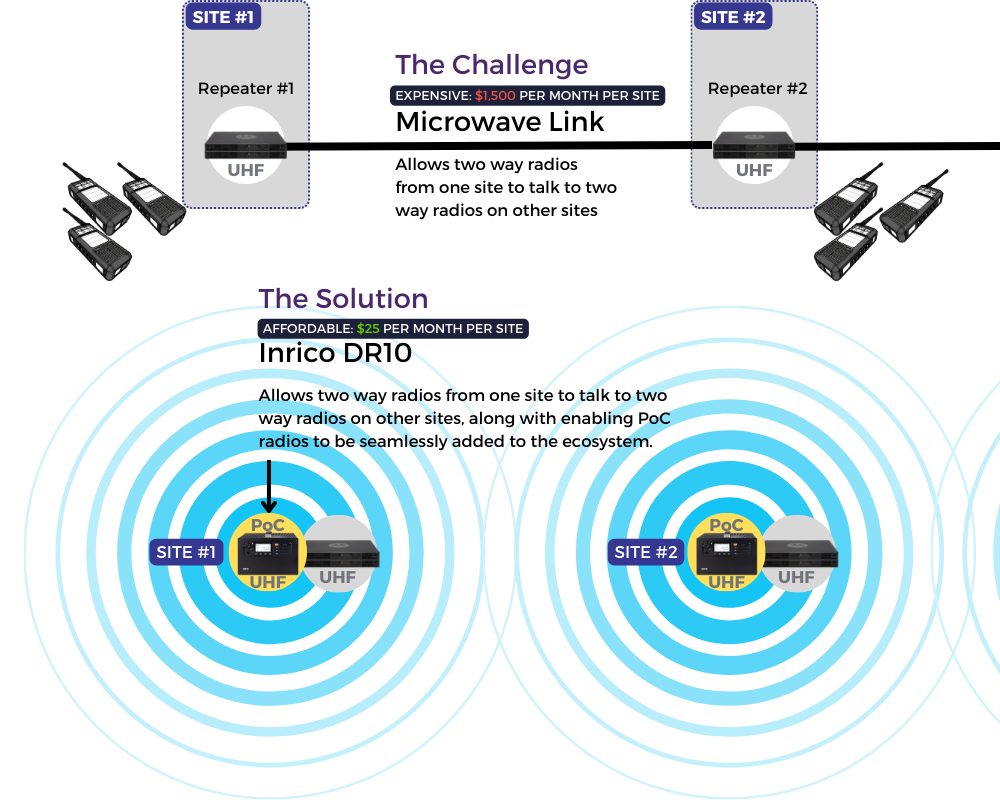 THE IMPACT
Ten Inrico Canada DR10 Gateway devices replaced the customer's expensive microwave links ensuring a more affordable and reliable communications network that can operate on both traditional two way radio networks, as well as cellular networks at the same time.
With "service from the ground up" at the forefront, we developed a valuable, and open customer/contractor relationship that ensures the client can reach for speedy help and technical supports. Our team maintained the project schedule and significantly reduced the customer's expenses on telecommunications while protecting the customer's previous investment.
98% reduction in monthly expenses from $15,000 to $250 per month.

Turnkey Solution – x10 Inrico DR10

(eliminates the need for microwave links, while enabling traditional two way radios to communicate on customer's existing UHF networks, as well as PoC radios to communicate on the same network)

PoC Radio Rentals –

always available from Expert Mobile Communications to support upgrades and expansions, thereby avoiding any potential disruption.
Contact us and find out how we can save you money.