Product Description
The Fusion2Go 3.0 features 2XP technology to maximize vehicle-to-cell tower range by increasing the uplink transmission power two-fold. This enables users to remain connected throughout the weakest cell signal environments. Independent testing by CKC Labs confirms that the Fusion2Go 3.0 provides 2X more uplink power and fastest speeds compared to the closest competitor.
Maximum gain and power throughout the most remote areas of the road
Supports multiple simultaneous users
Works with all North American carriers
Compatible with all cellular devices, including hotspots, while extending their battery life
5G compatible - Fusion2Go 3.0 supports 5G/4G LTE devices
2XP technology offers 2x uplink power for best performance in the most rural/remote areas
High quality materials for longevity and connectivity when you need it
Designed, assembled and tested in the USA
Industry best 3-year warranty and lifetime US-based tech support
How It Works
A cell phone signal booster captures a nearby cellular signal, amplifies it, and broadcasts that signal in the space that needs a better cell phone signal. Signal booster kits work for small and large homes, offices, apartments, commercial buildings, and even cars, trucks, and RVs.

Regardless of the space, the specific components of a cell phone booster include:
Outside Antenna - Installs on the exterior of your building in the location that receives the strongest signal from a nearby cell tower. This captures the strong signal outside of the building and pulls it into the building.
Signal Booster - Receives the signal from the outside antenna and amplifies the signal strength before sending the improved cellular signal to the indoor antenna(s).
Indoor Antenna(s) - These are installed inside of the building to distribute the amplified signal throughout your building or vehicle. Some buildings may require multiple indoor antennas and/or multiple boosters.
Cables - Connects the outdoor antenna with the booster and the booster with the indoor antenna.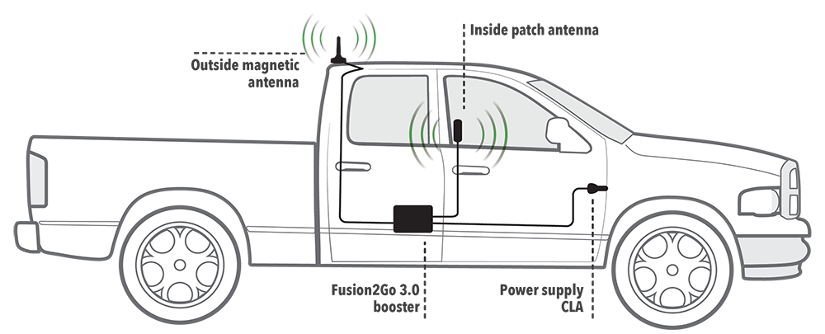 Technical Information
| | |
| --- | --- |
| Part Number: | SC-Fusion2Go3 |
| Uplink Frequency Range (MHz): | 698-716 / 776-787 / 824-849 / 1850-1915 / 1710-1755 (G Block Included) |
| Downlink Frequency Range (MHz): | 728-746 / 746-757 / 869-894 / 1930-1995 / 2110-2155 (G Block Included) |
| Supported Standards: | CDMA, WCDMA, GSM, EDGE, HSPA+, EVDO, LTE and all cellular standards |
| Input/Output Impedance: | 50 Ohm |
| Maximum Gain: | 50 dB |
| Max Uplink Power: | 29 dBm |
| Noise Figure: | ≤5 dB |
| VSWR: | ≤2.0 |
| Gain Adjustment: | 20 dB (Automatic) |
| DC Car Charger: | 6-15V |
| Maximum Output Power: | 1 Watt EIRP |
| Exterior Antenna Cable Type / Length: | RG-302 / 10 feet |
| Interior Antenna Cable Type / Length: | RG-174 / 10 feet |
| RF Connectors: | FME Male (both ends) |
| Power Consumption: | <10W |
| Dimensions: | 5.625" x 4" x 1.125" |
| Weight: | 1.43 lbs |