Product Description
    RESIDENTIAL SYSTEMS 2021 PICKS AWARD WINNER

Stay connected with Fusion Professional, the most powerful cell phone signal booster for mid-size buildings that provides strong, reliable connections in areas up to 8,000 sq. ft. It significantly improves 5G/4G LTE connectivity for all North American cell carriers with built-in 2XP technology that doubles uplink transmission power to maintain the cellular connection to the tower in the weakest signal environments. Assembled and tested in the USA with outstanding build quality, award-winning technologies, all-carrier compatibility, and world-class support, the Fusion Professional is the premier cell phone signal booster for the mid-size commercial buildings and large residences.
Significantly improve cellular connectivity for all North American cell carriers inside any building, up to 8,000 sq ft.

Exclusive 2XP technology delivers twice the signal power to the tower when compared to the closest competitor to keep all devices connected in weak signal areas

SureIQ balances incoming signals, ensuring 24/7 uptime and continuous peak performance in both urban and rural areas

Highest system gain in its class combined with our strongest outdoor yagi antenna ensures constant connectivity in even the most challenging signal environments

5G compatible– Fusion Professional supports 5G & 4G LTE phones and devices, including MiFi hotspots and cellular datahubs

Designed, assembled and tested in the USA. FCC and IC-approved amplifiers built with the highest quality materials for longevity and connectivity when you need it most

Includes 24/7 lifetime US-based tech support and 3-year manufacturer's warranty
How It Works
The cell tower sends and receives signals within a general area
An outside antenna captures the signal, the signal booster amplifies the signal strength and indoor antenna(s) send the improved signal to your phone.
The call, text, 4G LTE and 5G data signal returns to the tower by following the same process in reverse.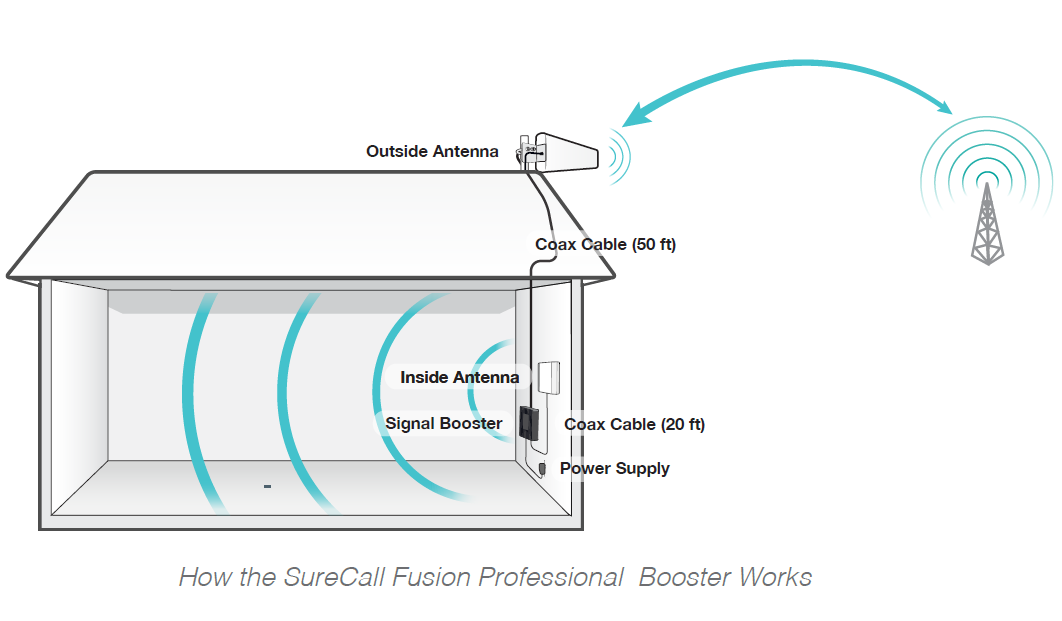 Technical Information
Please contact us if you need more information
| | |
| --- | --- |
| Uplink Frequency Range (MHz): | 698-716 / 776-787 / 824-849 / 1850-1915 / 1710-1755 (G Block Included) |
| Downlink Frequency Range (MHz): | 728-746 / 746-757 / 869-894 / 1930-1995 / 2110-2155 (G Block Included) |
| Supported Standards: | CDMA, WCDMA, GSM, EDGE, HSPA+, EVDO, LTE and all cellular standards |
| Input/Output Impedance: | 50 Ohm (Outdoor) / 50 Ohm (Indoor) |
| Maximum Gain: | 72 dB |
| Maximum Downlink: | 8 dBm |
| Maximum Uplink: | 26 dBm |
| Noise Figure: | 8 dB |
| VSWR: | ≤2.0 |
| AC Power Transmitter: | Input AC 110 V, 60 Hz / Output DC 5-15 V |
| Maximum Output Power: | 1 Watt EIRP |
| Cable: | SC-400 (50 ft) / SC-240 (20 ft) |
| RF Connectors: | N-Female (both ends) |
| Power Consumption: | <15W |
| Operation Temperature: | -4º to +158º F |
| Dimensions: | 7.875" x 5" x 1.188" |
| Weight: | 2 lb. 3 oz. |
Kit Contents
Your Fusion Professional signal booster package includes the following items:
SureCall FusionPro signal booster and power supply
Outside Yagi Antenna - SC-230W
Outside cable (50 ft) to connect the booster and outside antenna SC-400
Inside panel antenna -SC-248W
Inside cable (20 ft) to connect the booster and inside antenna - SC-240